Master Bathroom renovation Miami
One of my most recent projects was a condo on the beach in Miami. This apartment had a theme; tulips in peach/gold. Everywhere. Wallpaper, custom carpets, sofa, bedding…I know gold is making a comeback, but I really did not feel that was the route to go in this case.
Step one was demolition. The most dramatic changes  happened in the kitchen and bathrooms;
After/Master bath: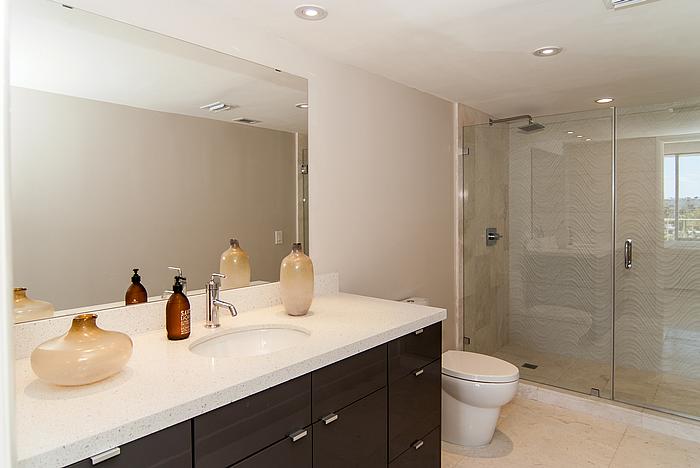 For the vanity I used 3 base cabinets from the IKEA kitchen line. Compared to regular bathroom cabinets, they are extra deep (standard kitchen counter depth) , which, if you have the space, is an advantage storage wise. These cabinets are also tall, and if you use the standard feet that come with the base cabinets (minimum 4″/11cm)  you'll end up with approx 36″/90cm to top of counter. Since I have kids this height can be a bit unpractical. I therefore made a 2″  tall square base of pine to support the cabinets instead. The fronts are also IKEA , dark grey from the Abstract line.
Master bath/before: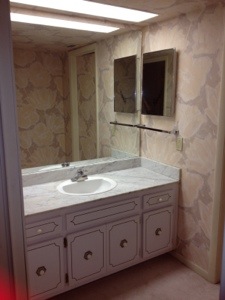 Tulip wallpaper, wall to wall carpet (ugh..), stained marble counters, fluorescent lighting, pressed wood cabinets and half wall between sink and toilet. All had to go.
ADDITIONAL MATERIALS USED IN THE RENO:
3D Wall tile; Creta Marfil from Porcelanosa, approx. 10USD/tile
http://www.porcelanosa-usa.com/home/products/tile/wall.aspx/d=11641/title=Creta_Marfil
White, matte marble tile on floor 24″x24″ (60x60cm) on  floor, tiles cut in half (24″x12″) on side walls in shower area.