The 2nd bathroom to get a complete overhaul was the kids bathroom. I still wanted a bathtub, and some additional storage is also nice.
After: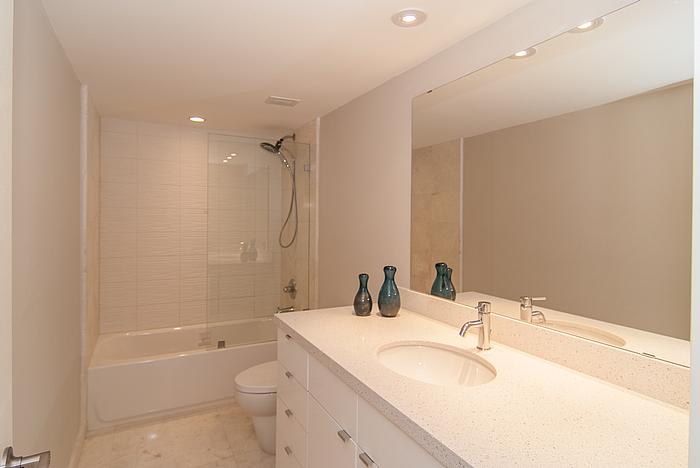 I used base kitchen cabinets from IKEA for the vanity (see my post Master bathroom renovation Miami for details on dimension and base). The fronts are also IKEA, ABSTRACT white in high gloss.
Before: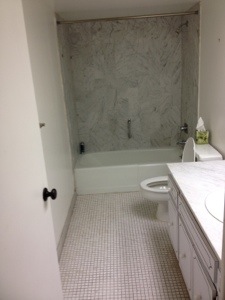 The whole bathroom was gutted, although the layout stayed the same. By not changing the position of waterpipes and toilet, you can cut down the cost of renovation drastically. Besides, in small bathrooms you often do not have many options where these pipes should go anyway. Mosaic floor tiles with once white grout (NEVER use white floor grout in bathroom) were replaced with large (24″x24″)/(60x60cm) white , matte marble tile on floor and a 3d Porcelanosa tile (Jersey Nieve), approx 10USD/sqft. The walls were painted with a greyish taupe from Benjamin Moore called "Winds breath". I love this color, it goes with everything and looks really warm and soft. Using greys in bathrooms can be a bit tricky, as lack of sunlight can give a stark and cold look if the grey is too cool in color. The counter is made of quarts. When you need a small piece like here, it can often pay to visit a stoneplace with a warehouse in the back. Remants can cost half of what you would normally pay.
http://www.porcelanosa-usa.com/home/products/tile/wall.aspx/d=15139/title=Jersey_Nieve
I ordered the recessed porcelain sink, fixtures and toilet from www.homedepot.com